A Canadian International Supplier/Exporter of Wiper Rags & Used Clothing
We are a Canadian, Nova Scotia based company offering experience in the textile recycling industry since 1972. We deliver excellent quality used clothing and cleaning rags/wipers not only in Canada but around the world. We take pride in expertly hand sorting all materials entering our facility to ensure that you, the customer, receive #1 quality product.
Our used clothing production warehouse facility provides high volume capacity that ensures our customers receive excellent value. If you are our current customer we thank you for your business. If you are not a current customer please give us the opportuntiy to earn your business.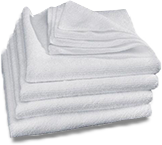 Canada's Acadian Wipers employs a large cutting staff to handle any size order. With a steady supply of product entering our facility on a daily basis, we feel confident that we can supply any of our customer's needs in a timely manner. read more »
Acadian Wipers hand sorts all of the clothing that we export. Our Canadian product is considered #1 grade by our customers. We strive to ensure quality remains high by checking our clothing numerous times before it gets packaged. read more »